---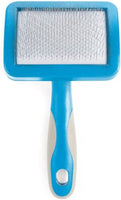 The Ergonomic Universal Slicker is designed to be used to pets with longer coats of fur. The brush like device is used to remove dead hair and tangled knots. The Ergonomic handle and shape will allow you to brush with ease without causing any strain.
The Ancol Ergo Slicker Brush is a multi-purpose grooming tool for short, long, wiry and curly coats.
The stainless steel pins are thin and bendy and can be used to ease out a tangle more gently than a comb.
The pins penetrate deep into the coat and effectively remove large quantities of dead and loose hair from both the undercoat and the top coat.