---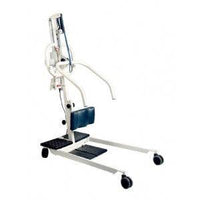 Unique handle bars encourage clients to push down in order to stand
Height and width adjustable shin pad
Safe working load/max weight limit at 203kg
Powered raising, lowering and leg opening facility
The KELLY STAND has been developed for two reasons:

1. To allow nursing and care staff to manoeuvre, toilet andchange a persons clothing quickly and without the need to manually lift, so reducing the risk of back injury associated with
such tasks.

2. To assist people to stand, thus promoting rehabilitation and
circulation through the body.