---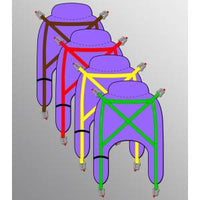 The Select Pro-Lock® Disposable Sling, has been developed to provide a cost effective patient handling solution to the increasing challenges of infection control. Available in four sizes (x-small, small, medium and large), the Pro-Lock® is designed to be issued for single patient use only and to be disposed of when soiled or no longer required.  
The Pro-Lock® Sling incorporates a head support for increased comfort and a Patented Positive Locking Clip fixing, suitable for use with any hoist with a clip fixing mechanism.  
Positive Locking Clip Fixing - Patent Applied For: GB0821240.9  
Infection control maximised.  
Laundry costs eliminated.  
From Only £11.95 each.  
Unique safety harness with positive locking clip fixing.  
230kg weight limit.